Why go light?


Some may ask why worry about using light weight gear? You aren't carrying it on your back after all! It is best to go light because your bike will handle better, and you can take more comfort and luxury items. You wonít hesitate as much to bring a small backpacking tent just in case if it isn't a massive 5+ kilogram tent.
Basic Camping Gear


The most basic
camping gear
involves:
shelter
= tent
sleeping gear
= sleeping bag and sleeping pad
light
= headlamp
cooking gear
= stove, mess kit, sponge and dish soap - but you could just do sandwiches, etc.
toilet gear
= toilet paper
Of course you can add stuff to that to make you more comfortable, etc. Google camping checklist to get an idea of what else you might want to take:
http://www.lovetheoutdoors.com/camping/checklists.htm
I would add
a small chair
if you are not Japanese and/or donít like sitting on the ground!
Shelters and Tents


Plenty of people do just fine with cheapie home center tents. However, a cheap tent will tend to have trouble with high winds and might also fail to keep you dry in rainy
weather
. I recommend getting a good quality US name brand backpacking tent. The Japanese brands tend to be overpriced and under-designed. Get something with high quality aluminum poles, Eastman aluminum 7075 poles for example.
I recommend the Big Agnes Seedhouse SL2 as a solo tent. It is the lightest for the interior space at 1.6Kg which makes it good for offroading, etc. the vestibule is small but you can get your gear inside. You can just set it up without the fly for clear hot nights or set it up like that under a BBQ shelter or tarp for hot
weather
camping.
One popular method is the
Big Tarp/Small Tent
method, aka the Kansai riders pro tent/tarp system: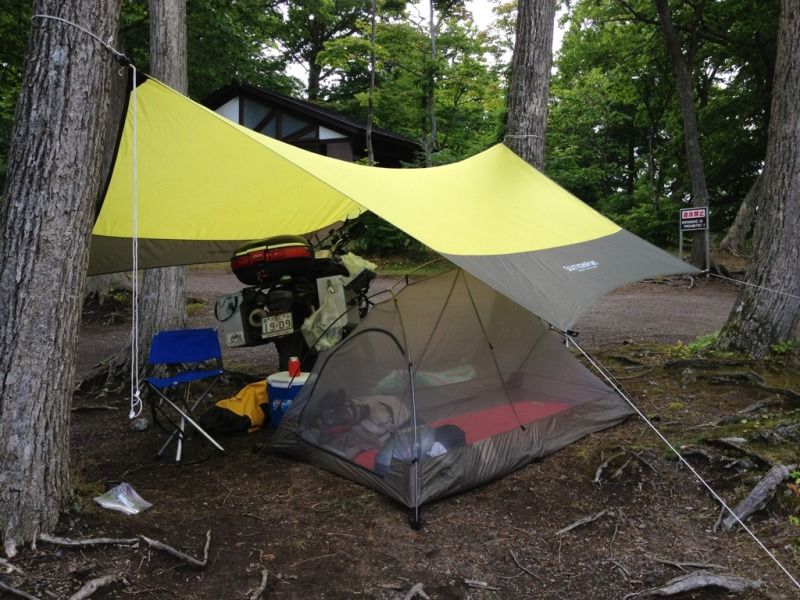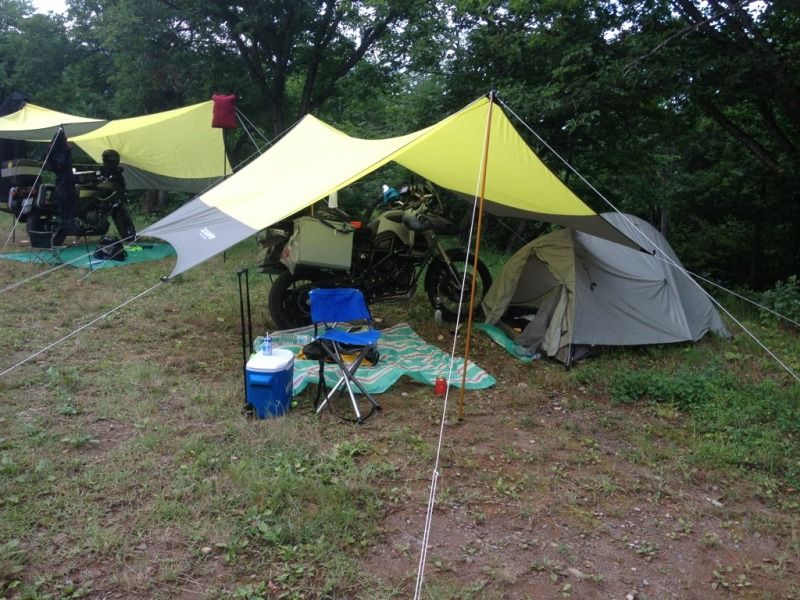 this system will allow you to set up, hang out, and pack up in the rain which is important in rainy japan!
Now what makes a really good tarp?
I wish I had bought one that blocks more UV. It might be worth spending a little more to get a coleman or other brand that is a `UV` tarp. This will provide better shade in hot weather. In such conditions, the cheap southernport tarps are noticeably insufficient at blocking the sunlight to create good shade.
If you want an ultralight tarp:

Ripen(ライペン アライテント) ビバークタープL
http://store.shopping.yahoo.co.jp/od...i/1000492.html
Poles

When you want to go a bit lighter get some aluminum poles. The tall snow peak poles are better quality than the stock steel poles but not so light. If durability is your priority, the tall snow peak poles are probably stronger and more durable than the kelty Noah`s staff poles. However, if weight is your priority, get the Noah`s staff 78 inch poles. The snow peak 1.5 meter poles are light enough and good for extra poles to raise up one side of the tarp.
All that being said, a simple Southernport tarp with some better pegs will accomplish the main mission of allowing you to unpack, hang out, and pack up in the rain.
Pegs
Decent quality tent pegs will last longer and work better in going into the ground without breaking or bending and staying in the ground in various types of soil. Always carry several extra tent pegs in case you bend or break a couple in rocky ground.
I recommend these snow peak aluminum pegs:
http://www.snowpeak.com/shelters/sta...t-r-045-1.html
Redverz Gear's Motorcycle Camping Tents
:
These tents have become very popular for good reason. This is not a small packing lightweight tent! However, it is a very comfortable tent system. It is a bit like having a hotel room. Uou can use the vestibule area as a living room, or get your bike into it in inclement weather. Certainly, this system will be much better than the tent/tarp system in really inclement weather!
ADD PICS HERE